WALL SCULPTURES
I have always enjoyed heavily textured painting, so extending the textures to be a structural potrusion from the canvas, seemed  a logical step. The canvas works retain the frame and structure of the normal picture, but letting that go, leads to something more abstract.
TRIFFID IDEA
This is constructed from chicken wire and stiffened material. The colours have been sprayed with cellulose paints.
Watch the Youtube video of how this was constructed.
SOARING
A Sea Eagle banks over craggy shores. I was inspired by a photo. The bird is constructed from stiffened material and one wing, the torso and one leg are proud of the canvas. Using acrylics, gel medium and a variety of paint effects. Youtube video on Soaring
80 x 60 cm 2018
RETREATING
We live in house that was built as part of a Silent Order Monastery. The Monks live as Hermits in a community, with little or no contact with the outside world. The Monk in his habit is constructed from stiffened material, is outside of the frame, and not part of our image. Youtube – what inspired Retreating
80 x 60 2018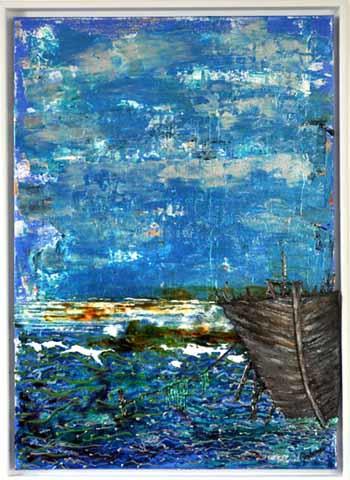 NEGLECTING
Inspired by an old wooded boat that sits in Chichester Harbour, slowly rotting away. The Vessel is strips of stiffened material, sitting proud of the main canvas. The use of gel mediums, acrylics and other additives creates turbulent waters. Youtube -Neglecting's story
80 x 60 cm 2018
THREE PONDS AND A ROCK
I had been playing with a Gel Medium product mixed with a water colour paint., to create a flexible, transparent film. I used this to create the middle pond and lower ponds. The mounds in the foreground, are constructed from stiffened canvas and protrude from the canvas.
The picture sits back in a deep, wide frame.
90 x 90 cm 2019
Copyright secured by Digiprove © 2020 Grahame Morgan-Watson